Lian Li PC50 Case Review
Date Posted: Mar 29 2002
Author: pHaestus

Posting Type: Review
Category: Case Reviews
Page: 1 of 2
Article Rank:No Rank Yet Must Log In to Rank This Article

Note: This is a legacy article, imported from old code. Due to this some items on the page may not function as expected. Links, Colors, and some images may not be set correctly.
Lian Li PC50 Case Review By: pHaestus
By pHaestus

Introduction-
Aluminum PC cases have gone from being an extremely expensive novelty to being a common choice for custom PC builders in the space of a year or so. If you ask the manufacturers, they will tell you it is due to the increased heat transfer properties of aluminum, and that "the entire case acts like a heatsink". If you ask a Pro cooler about that theory, you'll probably hear laughter; heat is actually moved around in cases via airflow not by conduction through the walls of the case. Faux science aside, several companies have made a big splash (and huge profits) by introducing aluminum cases to the enthusiast crowd. These cases have become popular because of their looks; there is a strong appeal to the clean lines and finish of aluminum cases.

Initially, Coolermaster had a stranglehold on aluminum case market in the US. It wasn't long though until Lian Li overtook them as the aluminum case of choice for the majority of users due to aggressive pricing and availability. Lian Li initially became popular with the success of three cases, the PC-30 (a mini tower ATX case), the PC-60 (a mid-tower), and the PC-70 (a full tower). There were a few features that Lian Lis came to be known for: dual 80mm intakes (side by side) with filters; removable motherboard trays; factory filters on the intakes; supplying the case with a full complement of fans; liberal use of thumbscrews; and a distinctive brushed finish on their anodized aluminum exteriors. Now we are in the second generation of Lian Li cases in the US, and they are offering cases in a variety of sizes (from the mATX PC-42 to the enormous PC-78 server), styling, and price range ($100 to $500).
| | |
| --- | --- |
| | |
| | I have used a PC-70 full tower case for quite a while and had gotten spoiled by its features and ease of use. But I really didn't have room for such a large case, and I wanted a challenge for my first Procooling water cooled system. I really like the look of Lian Lis though, so I managed to score one of their new line of cases, the PC-50, from So-Trick Computers. Here it is compared to my old PC-70: |
| | |
| --- | --- |
| | |
| | Don't let the extreme difference in height fool you; the PC-50 actually has enough internal space for a fairly loaded setup. |
| | |
| --- | --- |
| | The PC-50 is a mini/midtower case with pretty good expansion (3 5.25" external; 2 3.5" external and 4 3.5" internal drive bays), tolerable cooling (one 80mm intake and 1 80mm blowhole exhaust) in a small form factor. The case measures only 189×490×381mm (7.44×19.3×15"), but it is as large from front to back (19.3") as the much larger PC-60 mid-tower. I was rather disappointed that the PC-50 is also narrower than the PC-30 or PC-60 as another inch or so of width would potentially allow for larger heatsinks to be used. |
| | |
| --- | --- |
| | |
You can see from the side view that the case is actually a good bit roomier than you'd suspect at first glance. That was my main reason to go with the PC-50; I plan on water cooling (of course) and the PC-30 was just too tight a fit for my gear.

I suppose that the PC-50 falls into Lian Li's budget lineup, as there are some frills (thumbscrews for the PCI slots and HDD cage, only a single 80mm intake, no adjustable fan speed) that are missing from this case that I have seen on their more expensive models. The overall construction and finish of this case were nonetheless identical to the much more expensive PC-70, so I wasn't too disappointed.

One thing that Lian Li changed for the better on the PC-50 (compared to other Lian Lis I have used) is the design of the power and reset buttons. The old design was a rather clunky plastic plate, where the PC-50 has its buttons inset into the case much more cleanly:
| | |
| --- | --- |
| | Old Buttons |
| | |

| | |
| --- | --- |
| | New Buttons |
| | |
The end result is a much more aesthetically pleasing bezel.

Another change on the PC-50 from earlier Lian Li cases is the construction of the intake filter. The PC-50's filter is a loose foam like all of the other cases, but it is supported by an aluminum frame that is quite restrictive to airflow. Additionally, the front of the case no longer has a fully open hole but instead has a crossbrace to keep the filter from getting sucked into the fan.
| | |
| --- | --- |
| Filter | Cross Brace |
So the PC-50's intake fan has its ability to pull fresh air into the case severely limited. Combine that with the fact that for some reason Lian Li only used one 80mm fan instead of two and this leads to poorer airflow than with the PC-60 or even the PC-30.

This is probably a good place to address the one thing about this case that may drive quite a few potential buyers away: the power supply (PSU) mounts in the top of the case vertically and so it therefore limits the size of the heatsink that can be used. This is how the PC-30 was built as well. One thing that is different on the PC-50 is the orientation of the PSU inside the case. The PC-30 was built so that PSUs with dual fans (like the enermax) were ineffective because the fan on the side of the power supply faced the door of the case. Lian Li changed that with the PC-50; the 92mm fan on an Enermax lines right up with the heatsink to pull air out of the case. I suppose that Lian Li engineers read Multiplaycity :)
Lian Li seems to realize that having the PSU mounted sideways results in a pretty serious cooling problem. To address this, they added an 80mm blowhole on top of the PC-50.

Blow Hole
| | |
| --- | --- |
| | When I saw this exhaust, I immediately thought of the Alpha PEP66 heatsink/fan. I would think that having that unit exhausting air from the CPU right to this blowhole would be a very good setup in this case. |
Since this case is really the perfect size for a LAN box, you might be concerned about security for your system. It would suck to have someone jack you for your expensive video card at a LAN party. I solve this problem by running a Radeon 64mb DDR, but Lian Li is looking out for us by adding a lock to the rear of the case. This sounds cheesy but it is actually pretty cool.

If the lock is engaged then you cannot remove the motherboard tray or the side panel of the PC-50. This doesn't mean that the PC-50 can double for a safe deposit box; I know all Antec case keys are interchangeable and I would suspect the same for Lian Li cases. Even so, this should stop you from getting jacked when your back is turned by the casual thief.
| | |
| --- | --- |
| | |
| | The last piece of the PC-50 that needs discussion is the front USB ports. There are two ports, and they are USB 2.0 compatible. The port wiring ends in 10 one pin headers so that it is possible to hook them up no matter the layout of the motherboard's USB headers. This was a nice touch on Lian Li's part I thought, although it isn't too difficult to make your own adapter. |
Random Forum Pic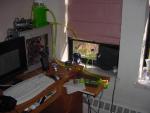 From Thread: Back to Water - New Rig (Pics)
ProCooling Poll:
So why the hell not?
| | |
| --- | --- |
| I agree! | 67% |
| What? | 17% |
| Hell NO! | 0% |
| Worst Poll Ever. | 17% |
Total Votes:18Please Login to Vote!