Kevins uper fast Kyro II graphics card mod
Date Posted: Jul 31 2001
Author: Kevin

Posting Type: Article
Category: Hardware Modding
Page: 1 of 1
Article Rank:No Rank Yet Must Log In to Rank This Article

Note: This is a legacy article, imported from old code. Due to this some items on the page may not function as expected. Links, Colors, and some images may not be set correctly.
Kevins uper fast Kyro II graphics card mod By: Kevin
| | |
| --- | --- |
| | Kevin's Uber Fast Kyro II Mod'n |
| | |
| --- | --- |
| | The Kyro II chipset… what a beautiful thing. Whether you are a nVidia zealot or an ATi maniac, you would have a tough time admitting that the Kyro II sucks. Even if you dispute its performance and lack of cliché features, its presence has most definitely caused the prices of many other video cards to lower. In turn, the Kyro II release by ST Micro has been beneficial to us all. Hercules, one of nVidia's main retail partners, decided to snag this chipset and market a low-cost, performance alternative to the GeForce2/3 line of cards. Hercules took the reference design, colored it blue, gave it a blue heatsink, and called it the Prophet 4500. Here it is. |
After playing around with this card for a while, I started tinkering with overclocking. I quickly learned that the core and the memory speed were locked together at 175/175. This seemed to be a pretty conservative setting. The chip doesn't run too hot, and the memory is spec'd for 5ns (200 mhz) operation. Time to overclock. The highest I was able to achieve was 185/185. Something's wrong!

I figured that if I were to cool the core down far enough, I'd be able to overclock it until the memory became the limit, most likely in the 205/205 or
| | |
| --- | --- |
| | 210/210 range. After my chiller experiment (btw… part II is coming), I had 3 50w peltiers left. I decided to use one of them on this card and I also bought a Volcano II heatsink for cooling down the peltiers. I figured it would have no problem dealing w/ the small amount of heat. For insulation purposes, I bought some adhesive foam from www.2cooltek.com. I really like that adhesive foam. You just peal one side of and stick it on. My first step was to remove the stock heatsink/fan. Surprisingly, Hercules put some thermal paste on it. |
| | |
| --- | --- |
| | |
| | I proceeded to insulate the back of the Prophet 4500 with some adhesive foam. I cut down the piece of foam so it made a square slightly larger than the GPU of the card and put it right on the back of the card. Next, I made a hollow square with the inside being slightly larger than the GPU and the outside extending a bit further. Take a look below. |
| | |
| --- | --- |
| | |
| | I know my work is a bit messy. Shoot me. As was RE-emphasized by OnDaEdg's article about clamping peltiers to waterblocks, they need lots of pressure to make good thermal transfer. I spread some arctic silver epoxy on the GPU evenly, and then I used a "C" clamp to clamp the peltier to the video card. |
As you can see though, before I clamped down the peltier, I snuck a Comp-U-Nurse in there, touching the side of the GPU, to measure temps. Thanks for the Comp-U-Nurse, Coolerguys! The next step was to fix the heatsink/fan on the peltier. I grabbed a Volcano II, because it is pretty cheap and cools decently. I figured if it is an OKAY CPU cooler, then it can handle a wimpy 50w peltier without problem. I used the artic silver epoxy and "C" clamp again for this.

Before I stuck the fan on it, I decided to plug the peltier into the computer, just to make sure it was working…

Haha! I guess it works :). All I had to do was strap on the fan and I'd have a completed project! Here is how it looked.
| | |
| --- | --- |
| | |
| | Well, that's a lot nice than it looked before IMHO. The Comp-u-Nurse really makes it that much sweeter too. I fired it up and temps started dropping rapidly. They would go to around zero degrees Celsius VERY quickly and then slowly rise to around 9 degrees Celsius. This card would idle between 8 and 10 degrees, never breaking 10. When I played games, that escalated to around 11.5 degrees. I opened up Powerstrip, and I could not overclock this to higher than 190 mhz. That seemed VERY odd to me. I super-cooled the core and the memory was spec'd for 200 mhz operation. Why couldn't I hit 200? |
I researched the topic and found out that the GPU was not getting enough voltage to hit high speeds. After talking to Erg, a fellow Kyro II owner from Pro/Chat, I was pointed in the direction of this post at the MadOnion website. Although my soldering skills are incredibly poor, I decided to attempt the VMOD.

The voltage regulator on the Kyro II is on the top right of the card. It has five fingers coming out of the bottom. A 15k ohm resistor connecting finger 3 and finger 5 would increase the voltage significantly, according to the MadOnion poster. I decided to go for it, and soon I had this:
I know the soldering job looks bad, but it worked! I know it worked, because my Comp-U-Nurse shows that this card now idles between 12 and 14 degrees, decently higher than before. Here's what the FINAL product looks like.

I went into Powerstrip and started raising the clock/memory speed bar. To test stability, I played Roller Coaster Tycoon and Q3A for extended periods of time. Following those, I ran 3Dmark2000 and 3Dmark2001 a few times. I could do some of these things at 205/205 mhz with little to no visual glitches, but other things crapped out. I found a final, stable speed of 202 mhz!
Wow! That's pretty damn high for a Kyro II. TO MY KNOWLEDGE, that is the fastest Hercules Prophet 4500 in existence. Woah… cool! So that just about wraps things up. I don't have any benchmarks for you, because I'm running a Duron at 667 mhz. Benchmarks would be silly at that speed.

On a final note, this card is now FOR SALE! It includes ALL modifications made to it. Here's why I'm selling it:

As a gift, I got the coolest monitor known to mankind, the SGI 1600SW. I want to get a DVI card to use on it.
| | |
| --- | --- |
| | |
| | Disclaimer: All of the parts on this project were purchased by the writer and are being sold by the writer. Procooling will not be liable or responsible for this transaction in any way shape or form. ProCooling does NOT sell review samples it has received for a profit of any sort. Everything included with this device is property of the writer and not ProCooling supplied review samples. Any Questions or Comments on this policy should be addressed to Joe@ProCooling.com |
| | |
| --- | --- |
| That about wraps this article up, If you have Questions please post them on the Pro/Chat (recommended) or Pro/Forums, or Email Kevin directly. | |
Random Forum Pic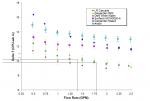 From Thread: dual pump any good?
ProCooling Poll:
So why the hell not?
| | |
| --- | --- |
| I agree! | 67% |
| What? | 17% |
| Hell NO! | 0% |
| Worst Poll Ever. | 17% |
Total Votes:18Please Login to Vote!