Waterblock Round-Up 1
Date Posted: Jan 2 2002
Author: Joe

Posting Type: Review
Category: H2O and High End Cooling Reviews
Page: 1 of 8
Article Rank: from 1 Readers Must Log In to Rank This Article

Note: This is a legacy article, imported from old code. Due to this some items on the page may not function as expected. Links, Colors, and some images may not be set correctly.
Waterblock Round-Up 1 By: Joe
By: Joe 1/2/02

Happy New Years!
Right now most of you reading this have known its been on the back burner for roughly 8 months if not much more. I shot my mouth off when I thought I could do it fast and get it over with. Soon after the project evolved from a simple review of a few blocks to a 900Lbs Gorilla that was that would have been very cool, but right after I announced this project I became one of the million or so unemployed techies in the country. With that, and a few other real life issues my time to spend on this project was more than put on a back burner, it was stopped cold in its tracks for 6 months. Till now...
Here we are today, with part 1 of the WaterBlock roundup completed and wrote up. The Roundup Will be broke into 3 sections. The First is the Socket 370 Blocks, Second is the Socket A blocks, and Third is Pelt tests on all of those. I can promise you the Socket A tests will be coming up soon after this, as I have already started on that testing. Part 3 is questionable for a while. For those tests I may be going to a new testing methodology I am researching, more news on that later.

Q: What Makes a block "Socket 370?"
A: Any block that DOESN'T use the Socket A holes for mounting on the motherboard. Since most of the blocks that use those holes are completely different than their S370 Lug type brethren, I felt it was not god to bench Apples against Oranges

With all that said, lets get onto why you are reading this:
The Contenders:

Due to the extreme lag in getting this review posted, many of these blocks are "ancient" and over 6 - 7 months old. Some are not even sold anymore, some are. With that considered the data for all the blocks is still very valid as it will help to show which designs excel in different areas. We are testing the block design, not the block name or MFG so age is irrelevant. Some of the surfaces on the blocks may look oxidized and tarnished. Many of these were tested almost 4 months ago and have tarnished since then.
Cool-Computers : Socket Cooler

| | |
| --- | --- |
| Material | Copper |
| Construction | Cast / Drilled and Plugged |
| Size | 2"L x 2"W x .5"H |
| Weight | 0.58 Lbs |

This block was one of the first copper waterblocks that I have ever seen that's not machined, but cast. A cast was taken from a piece of copper cut to the right size, and was used to make pre-formed water blocks basically.

Making cast blocks really is much different than the milled/CNC machined blocks that most other shops sell. The physical properties of a metal that's formed in a cast is much different than one that's been made out of copper bar or plate that's been compressed between rollers as it cooled.

The Coolant channels in this block are drilled in after the casting process, as are the hose barbs. This block is a minimalist in coolant flow and surface area. As you can see in the pics to the right, the 2 barbs tap into the sides of the 2 coolant channels. Of all the designs, this one has me the most curious due to its obvious lack of surface areas

Because the block is cast, its surface is NOT shiny and perfectly smooth. But it is perfectly flat. All the fittings were nicely sealed and I had NO issues on the fairly high power setup I was running. Overall the quality was top notch.
| | |
| --- | --- |
| Material | Copper |
| Construction | Machined and Capped |
| Size | 2"L x 2"W x .62"H |
| Weight | 0.56 Lbs |

BeCools Jagged Edge block is not that new to the scene or that overly innovative. Its pretty much your basic copper slug that's been machined, and capped with a copper lid soldered on.

One thing that is interesting is how damn sharp this block is. It lives up to its name "Jagged Edge" as it can draw blood if it lands on your foot. ( trust me on that one, I have the scar to prove it) The reason for this incredibly sharp corners is from the mirror and perfectly flat finish done on the top and bottom of the block.

The Ability to use this block as a mirror is rather cool, its the most highly polished surfaces of them all in this roundup. It achieves something that most blocks can't though... Its FLAT and polished. Many block MFG's just put their block on a buffing wheel, which will make it shiny, but not flat.

This block was also well sealed with Teflon plumbers tape on the barbs, I had NO problem with leaking.
| | |
| --- | --- |
| Material | Copper |
| Construction | Machined and Capped |
| Size | 2"L x 2"W x .68"H |
| Weight | 0.57 Lbs |

Danger Den is also no small player in the water-cooling industry. Now probably one of the biggest water-cooling gear suppliers, and definitely the most well known. This block sports the same composition and design as the BeCool Jagged Edge design. The machine work on this block seems to be extremely high quality. Its surfaces are a very flat, yet dull look as are most copper blocks.

The Flow pattern on this block is very different than the jagged edge though. Danger den is big into injecting the coolant to the center directly over the core ( a design that Swiftec first used on their waterblocks and many of not most companies have now gone to )

The Maze 1C is also touted as lowering internal flow resistance to keep the flow rate up though the block. The question of "Is that really important" is one that we will be looking at with dynamic flow testing later on in this article.

The Fittings are sealed with Teflon tape and goop, no leaks from this block either.
Leufken Technologies Copper

| | |
| --- | --- |
| Material | Copper |
| Construction | Drilled and Plugged |
| Size | 2"L x 2"W x .62"H |
| Weight | 0.62 Lbs |

Luefken Tech has been around since the days of Frosty Fox and the first pioneers of the water-cooling hobby. I still remember back when the only blocks that were around were Leufken's and like 2 others. This block is actually not overly advanced compared to some of the new technologies being used in block MFG.

This is a fairly typical cross drilled block. For its size it has a greater Copper mass due to it only having a few holes drilled through it. It's anyone's guess how that will affect the performance.

The finish on the block is nice and shiny, but around the corners it's very rounded. if you used anything over 45mm big you would start to loose contact with the block around the edges. The rest of the block is nice and flat and polished.
| | |
| --- | --- |
| Material | Copper |
| Construction | Machined, and Capped |
| Size | 2"L x 2"W x .86"H |
| Weight | 0.76 Lbs |

CPU FX has been around for a long time, but under the name OverClockers Hideout. They were one of the originators of building a business out of watercooling.

The Z3 is a far cry from their older blocks which were much more simple. This block is a Milled copper block just like the BeCool, and Danger Den. The main difference is the Aluminum hose fittings, and the screw/glue on top plate. This is a more inexpensive way of mounting a top plate. In the pic you can see the black epoxy/glue they used to seal the interface between the 2 plates. The 4 screws are really there for strength than actually holding the seal.

The Aluminum barbs weren't as leak proof as the Brass fittings that most of the other blocks used. This was due to the flat sides of the ridges, the brass ones are sharp, it lets them sorta eat into the tube a bit more and create a more solid seal. The Aluminum ones are OK, just not as nice as I would have liked. They are sealed with the same black glue that seals the top plate to the block.
Overclock - WaterCool - V Tuned

| | |
| --- | --- |
| Material | Copper / Brass |
| Construction | Machined / Layered |
| Size | 2"L x 2"W x .5"H |
| Weight | 0.48 Lbs |

OverClock WaterCool is one of the more innovative and interesting watercooling shops around. Unlike the others above who put out the same design for months or years at a crack, OCWC seems to change designs and ideas on an almost monthly basis. This obviously limits how mainstream the blocks are, but allows OCWC to continue searching for new cooling designs and ideas.

This block is the child of some of those innovative tests and design ideas. Its a 3 layer block ( while most are 2 or 1), with a Brass channel plate in a copper sandwich. The brass plate is milled all the way through so it just guides the water around and the water makes direct contact with the copper plates. An interesting idea to say the least.

OCWC calls this VTuned cause the internal volume is said to be tuned to a given flow rate. Again there has been much discussion on the importance of a high unrestricted flow Vs. a slower yet more turbulent flow.

The plates are soldered together, and the top fittings are sealed with a GOOP type Urethane glue. No leak issues for this block.
Random Forum Pic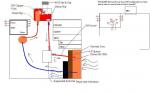 From Thread: New setup MASSIVEly High Temps!!!
ProCooling Poll:
So why the hell not?
| | |
| --- | --- |
| I agree! | 67% |
| What? | 17% |
| Hell NO! | 0% |
| Worst Poll Ever. | 17% |
Total Votes:18Please Login to Vote!