Swiftech MCW5000-A Review
Date Posted: Mar 24 2004
Author: pHaestus

Posting Type: Review
Category: H2O and High End Cooling Reviews
Page: 1 of 1
Article Rank:No Rank Yet Must Log In to Rank This Article

Note: This is a legacy article, imported from old code. Due to this some items on the page may not function as expected. Links, Colors, and some images may not be set correctly.
Swiftech MCW5000-A Review By: pHaestus
Swiftech MCW5000-A Review
By: pHaestus 3/27/04
The Swiftech MCW5000-A waterblock is a pin-style block for Socket 462 with a copper baseplate and an anodized aluminum top. The MCW5000-A uses 1/2" push in connectors rather than barbs and is mounted via clips that engage all 6 socket lugs. This waterblock was provided by Swiftech directly rather than from a reseller. Here's what Swiftech had to say about the MCW5000-A:

"The design of the MCW5000™ with 1/2"OD push-in connectors and MCW5002™ with 1/2" barb connectors is intended to provide effective watercooling over the range of coolant flow rates actually encountered in typical systems. Rev.2 was made in August 2003 and features a lower internal chamber to force all of the flow through the patent pending Diamond-Pin Matrix© baseplate. A subsequent change was made in October 2003 with the addition of stiffer springs to increase the clamping force while engaging all of the socket lugs. The corner to corner flow, coupled with the 1/2" overall thickness of the baseplate plus pins, results in uniform cooling for all die/IHS sizes, superior suppression of transient thermal spikes, and more efficient utilization of TEC devices. The MCW5000/5002 is a relatively low flow resistance waterblock, greatly facilitating the attainment of higher flow rates for systems so configured."
Bill Adams VP engineering, Swiftech

The MCW5000-A had the same excellent baseplate finish I have seen on other Swiftech products. As the block uses both aluminum and copper, end users should use a anti-corrosive additive in their cooling loop to avoid galvanic corrosion. I personally use a 20-25% ethylene glycol (antifreeze): distilled water mixture and suggest that you do too.
Test Results and Observations
Testing methods are the same as used in earlier waterblock reviews. One new development is the estimation that my TBredB 1700+ at 13x175fsb and 1.85V (BIOS) generates approximately 73W under load. I am hesitant to convert the graphs from deltaT to C/W as of yet (still playing with this sort of W estimation), but that should give you a ballpark number for CPU power. All tests were conducted on an MCW5000-A with "new" 30lbf springs except for the spring comparison testing.

I am going to say something that will surprise a lot of our readers: I like the mounting method of the MCW5000-A. It uses the socket lugs, but the block is a lot smaller than their MCX462-X heatsink and so you can get one hand around the block well enough to hold both of the socket clips in place as you loosen the screws and engage the springs. This works very well, is faster than using wingnuts and springs on 4 hole blocks, and I didn't have any problems with reproducibility.
| | |
| --- | --- |
| | |
In fact, the standard deviation from my 10 mounts of the MCW5000-A (0.355 C) was less than any seen in my earlier testing of the RBX, Cascade, and Whitewater. I could possibly be getting better at thermal paste application too.

This waterblock arrived as part of a larger kit and as originally supplied had the "older" springs. This gives me the opportunity to report on the effect of the new springs on performance. Unfortunately, I had only collected preliminary data with the original springs so rather than a full set of ten replicates for the old springs I have just a single run (hence the * in the graph).
| | |
| --- | --- |
| | |
It looks like one can expect a 1-2 C drop in temperatures by upgrading to the new springs. MCW5000-A owners might understandably be interested to know (a) how to tell what springs you have and (b) how to get the new stiffer springs. Swiftech says:

"In October 2003 the socket 462 clip retention springs were changed for stiffer versions to take advantage of the 30lbf load capability when engaging all three lugs. 'Old' springs can be identified by the presence of a washer between the top of the spring and the underside of the retention clip. The 'new' springs, with instructions, are available without charge by e-mailing Michelle@swiftnets.com and providing the name and address to which they should be sent."

I have to say that I am consistently impressed by the support that Swiftech provides their customers.

When tested as a function of flow rate, the MCW5000-A behaves quite a bit differently than other blocks I have tested.
| | |
| --- | --- |
| | |
The low flow rate (0.5-1 GPM) performance of the MCW5000-A is excellent, and then there is very little improvement between 1 and 2.5 GPM. This is reminiscent of the Innovatek rev3 waterblock and is, I believe, caused by a thick base and not using a center inlet. When you consider that many Swiftech users have cooling loops that contain multiple waterblocks (CPU, GPU, and northbridge) and 3/8" ID tubing, the performance curve makes a lot of sense. In essence the MCW5000-A is "tuned" for the flow rates that Swiftech customers are likely to have in their loops.

How design difference affects final performance (and flow rate dependence) is readily observed when MCW5000-A performance is graphed with other waterblocks.
| | |
| --- | --- |
| | |
Note that the other blocks all have thin baseplates and center inlets. They require higher water velocities to really perform. These higher water velocities come at the cost of higher flow resistance and should dictate your other cooling component choices. For high flow rates you need to use a more powerful (often noisier) pump and build a low resistance loop (1/2" ID tubing, low resistance radiator). If you do choose a low resistance, high flow rate loop then the RBX, Cascade, and Whitewater are clearly better performers than the MCW5000-A.

The MCW5000-A takes the opposite approach: its thicker baseplate and large surface area from pins make it perform well at lower flow rates and with lower flow resistance. For many water cooling systems this is very desirable. One can, for example, choose a quieter pump (Eheim 1048) and add a GPU waterblock for lower system noise without sacrificing much performance. One can switch to 3/8" hose for a neater/smaller case without sacrificing much performance. If these are your goals then the MCW5000-A is a good choice.

Thanks again to Bill Adams and Swiftech for providing the MCW5000-A for this review.
Random Forum Pic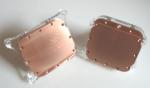 From Thread: Maze 4 Production Version Picture
ProCooling Poll:
So why the hell not?
| | |
| --- | --- |
| I agree! | 67% |
| What? | 17% |
| Hell NO! | 0% |
| Worst Poll Ever. | 17% |
Total Votes:18Please Login to Vote!