Micro Stealth
Date Posted: May 10 2001
Author: Unaclocker

Posting Type: Article
Category: ProCooling Projects
Page: 1 of 3
Article Rank:No Rank Yet Must Log In to Rank This Article

Note: This is a legacy article, imported from old code. Due to this some items on the page may not function as expected. Links, Colors, and some images may not be set correctly.
Micro Stealth By: Unaclocker
By : UnaClocker
Date: 5/10/01

First, I'd like to go over my goals in this project.

Small computer for my mother
AMD based
Watercooled
Cheap as dirt
Out-do ProMini ;>
Prove that home built watercooling can be reliable for normal people

So with that said, let's get on with it. A lot of this system was just spare parts I had laying around. Well, let's go over the parts that went into this system.

The Case -
| | |
| --- | --- |
| | |
| | I stuck with Pricewatch for hunting things down, starting with the case. I needed a cheap MicroATX case that used a standard ATX power supply, because a MicroATX power supply typically doesn't put out much over 150watts. Even a non overclocked Duron needs more power than that. I ended up going with a nice "Elevation Case model 217". It was $21 plus $14 for S/H and came with a 250watt supply. I really only bought the case because it was the cheapest one I was able to find. Once it got here, I realized it really was a nice case. As you can see, it's a good looking case. What impressed me the most was the essentially screw less nature of the case. |
The front pops off, then the sides swing out and lift off. The top also lifts off for easy access to to power supply and top drive bays.

Mobo Tray

The motherboard is mounted on a removable tray for easy installation and removal, which I found extremely helpful while assembling the machine. The 3.5" drive cage is on a swing-out hinged assembly. This proved to be very helpful too.
| | |
| --- | --- |
| | |
| | Lil Stealth Vs Micro Stealth Size Comparisons |
Here are some shots comparing MicroStealth to LittleStealth. As you can see, the case is about 1 bay shorter, maybe 2" total, and only 1/2" narrower. When it comes to depth though, MicroStealth is a whole lot shallower, a good 3"!

Then there was the CPU. Obviously the best bang for the buck CPU right now is still the AMD Duron. The Duron 700 is only $38, or thereabouts, and usually does 950-1050MHz. They also draw less wattage than the same speed TBird, which is good so that the CPU doesn't overload the poor 250watt supply. I managed to get one from a friend with an I-O-U. It was pretested (aka Used) to do 1000. It also had all 4 feet torn off which proved to be the biggest headache in the world. I managed to glue some foam onto the CPU to take the place of the missing feet.
| | |
| --- | --- |
| | |
| | The motherboard: it was a toss up between PC Chips 810 and the Asus A7S-VM. I ended up going with PC Chips because it had an AGP slot while the Asus didn't. They both have onboard video, which I had planned to use anyway. This motherboard is based on the SiS 730 chipset which is an integrated north and southbridge chipset. I was unable to find any MicroATX boards with multiplier controls. Although this chipset does support 266 FSB, so I'm able to run the Duron 700 at 933 on it without a hassle. This board had onboard video, sound, network and came with an AMR modem. It has 1 AGP slot, 1 AMR, and 2 PCI slots. |
I wasn't very impressed with the stock chipset heatsink so I glued on a blue orb that I had laying around. The board ended up costing about $90 shipped. And due to stability problems, I ended up hating myself for not choosing Asus.

Ram wasn't much of an issue since I had some junk PC133 laying around. The m/b only has 2 ram slots so it's a little limited on ram upgrades. Regardless, I only had a pair of 64meg sticks so that's what the board got. So I'd call that $40 worth of ram after shipping.
| | |
| --- | --- |
| | |
| | I haven't actually ordered the CD-Rom drive yet. I'm just using the DVD drive from my machine for the time being. I plan to pick up a cheap 24x locally for $30 or so. One thing I noticed with this drive was just how tight of a fit this case really is, there's barely any room between the drive and power supply. |
Random Forum Pic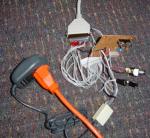 From Thread: My graphical LCD
ProCooling Poll:
So why the hell not?
| | |
| --- | --- |
| I agree! | 67% |
| What? | 17% |
| Hell NO! | 0% |
| Worst Poll Ever. | 17% |
Total Votes:18Please Login to Vote!